Welcome to Siemens Configurator!
From the Home Page, without a login, a user will have access to Estimators Price Guide and Contact Information. To access Special Features, please click request access in the top right corner.
Create A New Account:
Enter email, password and select customer from the drop down and click register. Siemens will verify your account and respond to you when complete.
If your customer information is not in the drop down, you will need to send an email with your Customer Name, Address, Contact Name, Email and Phone Number to ra.estimating.ic@siemens.com and an account will be set up.
Once your account is confirmed, click Log in in the top right corner, enter email and Password. Upon initial log in, you will need to go to Manage Account in the top right corner to set up profile and two factor authentication. Follow the online instructions to complete the two-factor authentication.
After two factor authentication is complete, click Home in the right menu and all menu options will be available.
Material Search:
To begin search, enter part number string or any keyword in the box and click search to return results. For example, type shunt in the box and all results with the word shunt in the description will be returned. Or enter 021500 to return all results for this root part number in alpha numeric order.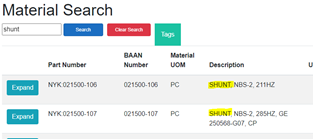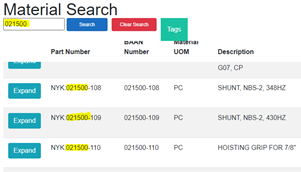 Tag Search:
You can also search by tags, by checking the products and/or options you want to find. For example, results will be returned by checking Gate Assemblies, S60, 5 Contact, Entrance and No Defroster. You can also go into the other main assemblies, like Flashing Light Assembly or Counterweight Package and select additional options to further refine your search.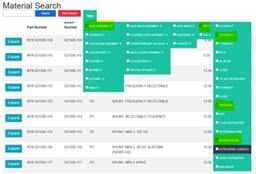 Special Features:
Once results are returned, you can expand BOM's of assemblies to view sub level components, tags, drawings, weight, lead time and price where available.
When a product that meets your specification is found, simply click on shopping cart to add to cart or circle to add to quote.

Shopping Cart:
You can view your shopping cart at any time by selecting Shopping Cart from the Left menu and update quantity, view lead time. list price, customer discount price and remove items. To add more items, just go back to the material menu, search for products and then add to shopping cart. When your cart is complete, select create quote, fill out quote information, and then Save as well as other available options like print quote when saved or request formal quote.
Quote Management:
In Quote management, you can select which quote you want to view, review, and edit details, save, print, or send back to cart to edit to create a new quote. You can also Print PDF quote, request a formal quote or submit a purchase order.